I have always loved the Three Musketeers and their adventures. For many years, Alexandre Dumas's heroes have been my favourite characters, and the books my favourite reading. Not unnaturally I soon took an interest in the historical figures who lurk in the shadows cast by their illustrious fictional counterparts, and I began to investigate the real lives of these men. Here is a short presentation of some of the work I have done in this field.
The regiment of Musketeers
Originally formed in 1622 as a regiment of the king's guard, the musketeers comprised 100 men. Immensely proud of their elite status, they soon became embroiled in serious competition with the Cardinal's guards, formed for his own protection by Richelieu, and their exploits were used to good effect by Alexandre Dumas in his
Three Musketeers
series of novels.
The king's musketeers were disbanded in 1646, only to be re-established nine years later, in 1657. Upon the death of Richelieu, the cardinal's company passed into the service of his successor, Mazarin. In 1660, Mazarin transferred the cardinal's guards to the king, the now enlarged regiment becoming the second company of musketeers.Their numbers were reduced in 1663 from 300 men to 250.
As a regiment the musketeers were mounted and armed with muskets and swords. They were distinguished by the colours of the coats worn by their horses: grey for the first company and black for the second. Each company included a captain-lieutenant - the king was captain - with a sub-lieutenant, an ensign and a cornet. Later, in 1690, the muskets, always an impractical weapon, were replaced by rifles, the musket being preserved for parades and ceremonial occasions.
The musketeers' uniform was a scarlet coat over which they wore a blue sleeveless tunic, the front and back of which was adorned by a cross of white velvet.
Athos
Of the historical counterparts of the Three Musketeers, the one of whom the least is known is Armand de Sillègue d'Athos d'Autevielle. All that is certain is that he, like the other musketeers, was a Gascon, he was a musketeer of the king's guard and he died young. He is thought to have been born c.1615 and is known to have died on 21 December 1643. Athos was first cousin once removed to Captain Troisvilles - Dumas's Treville.
The late, great Oliver Reed as Athos in The Three Musketeers (1973)
His death and burial are recorded in the register of St-Sulpice:
Procession, service and burial of the late Armand Athos dautuviele [sic], musketeer of the king's guard, gentleman of Béarn, taken close to the market at Pre aux Clercs
.
The entry, which is dated 22 December 1643, is very brief and suggests that Athos died a violent death. Had he died of an illness or accident, or at the hands of an attacker, the register would not have been quite so succinct, and it would have included some comment of the tragedy or the good character of the deceased. That it did not suggests that Athos probably as the result of a duel. Although duelling was illegal and punishable by death, the practice continued unabated throughout the seventeenth century and beyond.
Porthos
Isaac de Porteau was born into a Huguenot family at Pau, the second son of Isaac de Porteau, king's councillor and provincial comptroller or war and artilleries of Béarn. His mother was Anne d'Arrac, whose patron was the wife of Jacques de Caumont La Force, governor and royal lieutenant of Béarn.
Porteau's date of birth is unknown, though he was baptised on 2 February 1617.
Gérard Depardieu as Porthos in The Man in the Iron Mask (1998)
By 1642, Porteau was serving in the king's guards under the command of François de Guillon, seigneur des Essarts, the brother-in-law of Captain Troisvilles. Hi
s name is recorded in two inspections, one at Perpignan on 25 April 1642, the other at Lyon on 7 October of the same year.
He joined the musketeers shortly afterwards, although he did not stay in the regiment for long. By 1650, he was back in his native Gascony, serving as a subaltern of the guard of munitions at Navarrenx. It is generally thought that he acquired the post having been invalided out of the musketeers following an injury, although this is by no means certain. It is equally possible that he left the musketeers voluntarily, having felt that he had served all he wished to, and took up the subaltern post so he could work with his elder brother, Jean, who was comptroller of artillery for Béarn and comptroller for fortifications and repairs at Navarrenx.
Little else is known about Porteau's life and career, although local tradition has it that he was still alive in 1670 - but when, where or how he died are not known.
Aramis
Henri d'Aramitz, esquire, lay abbot of Aramitz in the valley de Baretous, Oloron, was born c.1620 into a Huguenot family belonging to the old nobility of Béarn.
Richard Chamberlain as Aramis in The Three Musketeers (1973)
His father, Charles d'Aramitz, was a sergeant in the musketeers under the command of his nephew, Captain Troisvilles. Aramitz's mother was Catherine de Rague d'Espalungue, daughter of Jean de Rague, squire, lay-abbot and seigneur of Laruns.
Henri, who was probably named after his uncle and godfather, Henri de Rague, jointed the musketeers shortly after May 1640, beginning his service the same time as his compatriot, Armand de Sillègue d'Athos d'Autevielle. He would spend the next fifteen years in the famed regiment, in which tradition has it that he served alongside his father, at least for a time. Sadly, no record of his service has survived, so it is not know what rank he achieved.
On 16 February 1650, Aramitz assisted in the drawing up of his marriage contract with the Damoiselle Jeanne de Béarn-Bonasse; the contract to be ratified by the groom's father, Charles.
Service with the musketeers kept Aramitz away from home for most of the time between 1540 and 1655, However, he managed to return to his Pyreneen home on occasion, such as in 19 June 1652, when he gave away his sister, Jeanne, in marriage to Monsieur Arnaud de Casamayor, pastor of the church of Oloron-Sainte-Marie.
Almost two years after this, on 22 April 1654, Henri d'Aramitz dictated his will to Jean Dufaur, notary of Baretous, who had come to the musketeer's house especially for the purpose. The preamble of the will reads:
Being on the point of making a journey to Paris, in which pray Our Lord [it may] please him to conduct and assist and not knowing the events which could happen, considering that death is certain and the hour of it is uncertain.
Aramitz commended his soul to God, humbly submitting himself to God to pardon his sins and to receive him into the glory of Heaven when he departed this world. Finally, he left the administration of his goods to his wife.
Henri was the father of three children at the time he wrote his will: two sons, Arnaud and Clément, and a daughter, Louise. A few months later, Jeanne gave birth to a second daughter, Madeleine, who would live to the age of 79.
Aramitz and Jeanne witnessed the marriage contract of Jeanne's sister, Anne de Béarn-Bonasse, to Monsieur Arnauld de Juncas d'Oloron, advocate, on 10 February 1657.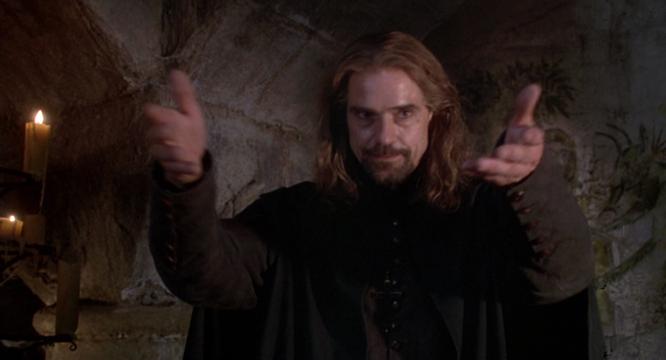 Jeremy Irons as Aramis in The Man in the Iron Mask (1998)
Henry d'Aramitz's death is not recorded, so it is not possible to know when or where it occurred, or under what circumstances. It is known, though, that he died before 11 September 1681, when his second son, Clément, succeeded Arnauld as heir, the eldest son having died without posterity. Clément had recently married into a family seated at Montbrison. Since he was not well known there, he was required to provide proof of his nobility. He presented a request to that effect to the estates of Béarn because his mother, Jeanne, had refused to provide him with the necessary papers - a sign of maternal disapproval for the match, perhaps?
With Clément, the abbey of Aramitz passed out of the family, when it and its livings were sold to Clément's cousin, Jean de Casamayor, in 1690. At some point after this, it was acquired by Antoine de Laure, who was married to Clément's sister, Louise, who is still recorded at Aramitz in 1702.
D'Artagnan
While not strictly one of the Three Musketeers, it was seem unkind not to mention d'Artagnan, who was arguably the most famous musketeer of them all.
No Authentic image of d'Artagnan survives - this portrait illustrated the pseudo-memoires of d'Artagnan, written by Courtilz de Sandras, first published in 1701
Charles Ogier de Batz de Castelmore, sieur d'Artagnan was born c.1613/15 in the small château of Castelmore in the comté of Fezensac, Lupiac. His parents were Betrand de Batz, seigneur de La Plaigne and Françoise de Montesquiou, daughter of Jean de Montesquiou, seigneur d'Artagnan in Bigorre. It was from his mother that d'Artagnan took his
nomme de guerre
, as did his elder brother, Paul, before him. In all,
D'Artagnan had three sisters: Claude, Henrye and Jeanne, and three brothers: Paul, Jean, who became captain of the guards, and Arnaud, an abbot.
In about 1635, d'Artagnan joined the guards, serving under Captain des Essarts. It is accepted, though not certain, that he took part the sieges of Arras, Aire-sur-la-Lys, La Bassée and Bapaume in 1640-41. The following year he was involved in sieges at Collioure and Perpignan.
Shortly after this, d'Artagnan travelled to England with the comte d'Harcourt and did not return to France until after the death of Louis XIII in May 1643.
Michael York as d'Artagnan in The Three Musketeers (1973)
Now under the patronage of Cardinal Jules Mazarin, who acted as regent during the minority of Louis XIV, d'Artagnan joined the musketeers in 1644 at the age of about thirty. He, therefore, became a musketeer at the same time as his friend, François de Montlezun, seigneur de Besmaux, the future governor of the Bastille.
After taking part in the siege of Courtrai in 1646, the musketeers were disbanded and d'Artagnan devoted his services to Mazarin. He was active during the Fronde, carrying out several missions and acting as liaison between the now exiled cardinal and the brothers Foucquet in 1651.
In July 1654, d'Artagnan fought under the command of Turenne, when he just managed to escape being killed at Stenay. More siege warfare followed, this time at Lancrecies and Saint-Ghislain, after which, at the age of forty or so, d'Artagnan became captain of the guards, then captain and concierge of the aviary at the Tuileries.
First and foremost, however, d'Artagnan was a soldier, so it was his good fortune that, in 1657, the musketeers were reinstated. The following year, he replaced Isaac de Baas as sub-lieutenant. Although he served under the nominal captain-lieutenant, Philippe-Julien de Mancini, du de Nevers, nephew to Cardinal Mazarin, d'Artagnan was actually the one in command.
D'Artagnan married, in 1659, Charlotte-Anne de Chanlecy, baronne de Sainte-Croix. The couple would go on to have two sons, born in 1660 and 1661. Captain d'Artagnan also acquired courtly connections when he was taken under the patronage of Antoine, duc de Gramont. In 1660, he accompanied the twenty-two-year old Louis XIV and the court to Saint-Jean-de-Luz for the king's marriage to Marie-Thérèse of Spain.
Gabriel Byrne as d'Artagnan in The Man in the Iron Mask (1998)
A less happy even took place the following year, when d'Artagnan was ordered to arrest the superintendant of finances, Nicolas Foucquet. During the three years it took to fabricate evidence against Foucquet, d'Artagnan served as his gaoler until, in December 1664, he was required to escort the fallen ex-minister to the prison-fortress of Pignerol in Piedmont.
D'Artagnan and his wife 'separated from bed and board' - the nearest thing to a divorce in Catholic countries - in 1665, after only six years of marriage. Perhaps the long separation while he was acting as goaler placed too much of a strain on the relationship.
The year after this, In 1666, d'Artagnan was appointed captain of the deer-hounds. The following year he became brigadier of the cavalry, taking command in Flanders. He then replaced the duc de Nevers as acting captain of the musketeers.
The Three Musketeers and d'Artagnan - The Iron Mask (1929), starring Douglas Fairbanks Sr, Leon Bary, Stanley J. Sandford and Gino Corrado
The year 1671 saw d'Artagnan travelling once again to the remote and forbidding prison of Pignerol, this time at the head of the escort of the delightfully mischievous duc de Lauzun. A year later, he replaced the mareshal d'Humières as governor of Lille.
Leading the musketeers in the 'Dutch Wars', d'Artagnan was killed at the siege of Maastricht on 25 June 1673 at about the age of sixty. Louis XIV and the Dauphin, Louis de France, stood as godfathers to d'Artagnan's two sons, each of whom acquired the name, Louis.